It's our community that makes us different.
Come along to our Open Morning/Evening and see how we're inspiring our students to love learning and be the very best they can be.
Enrolling now for 2022!
St Cecilia's is a small and diverse Catholic School community where our learning programs support a variety of student interests and learning needs. Joining the school in 2021 is new Principal, Marta Chylewska, who looks forward to leading the dedicated, talented and professional team who are proud of their commitment to the learning of all the children in our care. With extensive greenspace enabling outdoor play and learning areas we are also able to offer a wide range of sporting and extra curricular activities. In partnership with our parents ,our faith-led approach, with a focus on community awareness, social justice and student's wellbeing, is an important part of our difference. DEDICATED ONSITE BEFORE AND AFTER SCHOOL CARE.
Open Morning – Wednesday 5th May, 9:15am – 10:30am
Register here: https://www.trybooking.com/BQEAK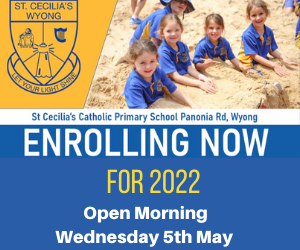 ENROLMENT INFORMATION