Preparing for Kindergarten can be both an exciting and daunting time for parents and children alike. It is a time when children make their first step towards formal education, and as such, it requires careful planning. The orientation sessions that we have planned for Term 4 are a great way to introduce the children to the school surroundings, teachers, and other students. These sessions can help to familiarise the children with the school environment and routines, which can help alleviate any anxiety they may have about starting school.
The dates for the orientation sessions are: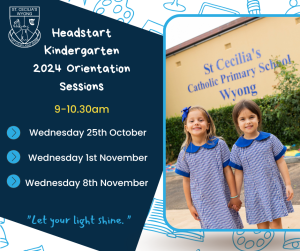 If you have not already registered your child for these sessions you can do so here.
If your child cannot attend any of the sessions, please email scw@dbb.catholic.edu.au
We encourage your child to attend all three sessions to familiarise themselves with the school, kindergarten teaching team, and meet their future classmates.
The plan for parents is as follows:
Session #1 – Social event for parents.
Session #2 – Information session in hall for parents
Session #3 – Drop your child off and come back to collect at the end of the session.
2024 Key Dates for Kindergarten
The first day of kindergarten for 2024 will be Friday 1st February. Best Start assessment will take place of Wednesday 30th January and Thursday 31 January. For information and session bookings will be available at the Parent Information Session in Term 4.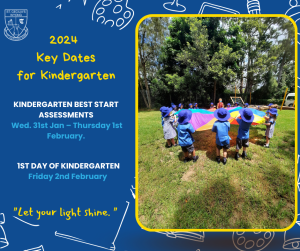 If you have any questions regarding the orientation sessions or commencement dates for next year, please contact the school office on 024353 2922.
We are excited to welcome all new students and families into the St Cecilia's community.