As a school community we believe that one of the primary aims of St. Cecilia's is the development of individuals who are capable of self-direction, of choosing freely, intelligently and responsibly in accordance with their conscience guided by Christ. Through pastoral care we recognise the dignity of each individual and the importance of family.
At St Cecilia's Catholic Primary School, we are committed to educating the children in the knowledge and traditions of the Catholic faith. We believe in nurturing a welcoming, caring inclusive community that promotes quality education and a love of learning. Inspired by our motto, 'Let Your Light Shine', we commit to empowering children to contribute positively to the school and the wider community.
Pastoral care at St Cecilia's Catholic Primary School follows from the Christian vision expressed in the Diocesan Pastoral Care Policy:
Pastoral Care….
Has as its focus the life of Jesus
Is concerned with the dignity and integral growth of the person
Is a responsibility entrusted to all members of the faith community
Is a force for healing, reconciliation and liberation
Is an expression of and commitment to justice
(Diocesan Schools Board – Diocese of Broken Bay, August 2000)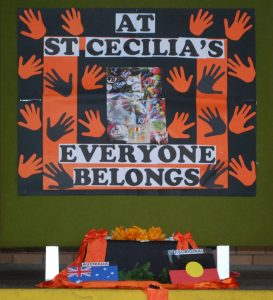 In order to provide a safe, respectful and cooperative learning environment, St Cecilia's has adopted 'Positive Behaviours for Learning' (PBL). These are proactive strategies that teach and support appropriate student behaviours. This maximises students' learning and helps them self-manage their choices which empowers them to 'Let their Light Shine'.
Kidsmatter is a mental health framework aimed to develop social emotional learning for children, parents and the school community. This initiative provides proven methods to create happy balanced children and encourage a strong working relationship with families.
PBL Behaviour Matrix