Regular learning experiences are provided by classroom teachers in order for our students to gain understanding and accomplishment in these art forms and for the students to appreciate the meanings and values that each of the art forms offer personally, culturally and as a form of communication.
Music and Drama are taught by our specialist teachers who provide the students with wonderful opportunities to experience each of these art forms. The students participate in a one hour lesson per week for the whole year, with each term being split equally between music and drama. For one whole term, the two specialist teachers combine and teach the students a dance program that encourages participation and enjoyment for all students.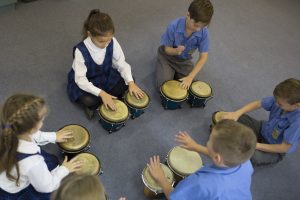 Creative Arts is covered within each individual classroom and allows students to experience and explore a variety of artistic techniques as well as teaching students about art appreciation and ways to critically evaluate and respond to artworks.